You don't have to be a scholar to unlock the depths of scripture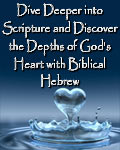 Chaim Bentorah is the pseudonym of a Gentile Christian who taught college level Biblical Hebrew and is an Amazon Bestselling Author. He prepared his students to take the placement exams for graduate school. He has now developed a method of study where he can prepare any Believer, regardless of age or academic background, to study the Word of God using Biblical Hebrew.
Invite Chaim Bentorah Ministries to your church or meeting place to tailor a speaking engagement or Biblical Hebrew class to suite your needs. Chaim and Laura speak on many topics and can customize a class or topic to suit any size venue, from two participants up to a thousand.
---
Register with us for Daily Devotionals
Register with our site to receive Daily Biblical Hebrew Studies by E-mail, make comments, ask questions, and take part in our discussions, as well as select options to receive updates. You can also follow us on

and

.
---
New Book Release/Big Sale

(1/2/2018)

-

Hello Everyone We thought we'd start the new year with a new book release from Chaim and some other amazing sale promotions to thank our faithful readers. Click on our bookstore link below to order . THESE SALE PRICES AND PROMOTIONS ARE ONLY GOOD THROUGH OUR WEBSITE STORE AT: www.chaimbentorah.com/store/ Chaim's New Book Release Journey Into […]
Aramaic Word Study: Little (Ones)

(2/25/2018)

-

ARAMAIC WORD STUDY – LITTLE (ONES) ZEORA – צערא Matthew 10:42: "And whosoever shall give to drink unto one of these little ones a cup of cold water only in the name of a disciple, verily I say unto you, he shall in no wise lose his reward." We hear little ones and we automatically […]
---